Team Scotland have been given a heroes' welcome as they touched down on home soil after their most successful away games ever.
Scotland finished Gold Coast 2018 with a total of 44 medals – the nation's second highest tally in Commonwealth Games history.
The return flight from the Gold Coast carried the extra weight of nine gold medals, 13 silver and 22 bronze.
The athletes were piped out to meet the flag-waving crowds.
Scotland's medal haul was the nation's highest at an overseas Games, just nine short of the record 53 won on home soil at Glasgow 2014, and left them eighth in the final Gold Coast medals table.
Swimmer Duncan Scott was one of the first to arrive, telling BBC Scotland News: "It's good to be home, it's going to be good to get into my own bed."
He was a force in the pool, winning six medals – the most ever achieved by a Scottish swimmer.
He arrived in Glasgow with a gold, a silver and four bronzes around his neck and said one of the highlights of his games was carrying the flag in the closing ceremony.
"That was really special," he said.
"It's something only a select few people get to do, so to be chosen for that, I was delighted and it was an honour to close out Scotland's team in the best ever overseas games."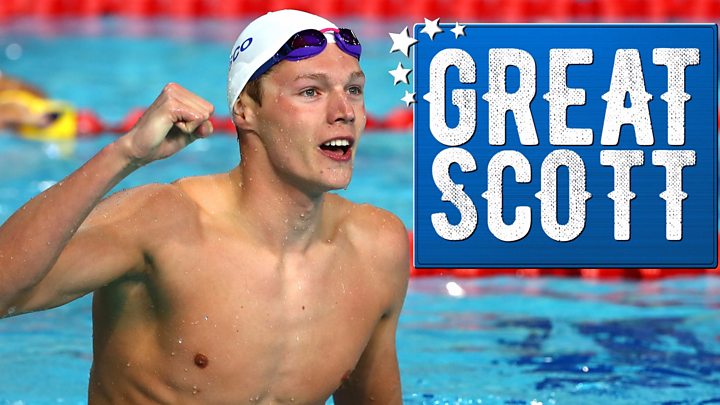 Gymnast Dan Purvis was happy to show off his two bronze medals, for the team competition and the floor event.
He said: "It's been my first away Commonwealth Games and to come back with medals I'm so proud of that.
"My best moment was the team bronze. We all worked so hard for that. It was a big battle.
"We didn't really clinch it until the final piece of apparatus and when Frank Baines finished his floor routine we knew we had done it."
There were plenty of golden moments for Team Scotland in Australia.
Alex "Tattie" Marshall claimed two medals in lawn bowls to become the Scot with the most Commonwealth titles, while Grace Reid won Scotland's first Commonwealth diving medal in 60 years.
Grace Reid took a surprise diving gold in the 1m springboard, which is not her favoured event.
First Minister Nicola Sturgeon offered "massive congratulations" on Twitter.
She said: "Forty-four medals represents Scotland's most successful overseas Commonwealth Games ever – thanks to all the athletes and support staff for making us all so proud."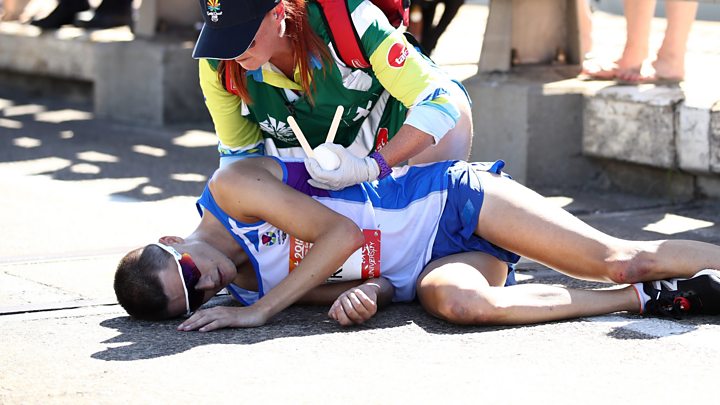 After unwittingly becoming one of the enduring images of the games, athlete Callum Hawkins was also among those arriving back in Scotland.
The 25-year-old marathon runner fell while leading with a mile-and-a-half left and was struggling on the ground for several minutes in the heat before eventually being helped into an ambulance.